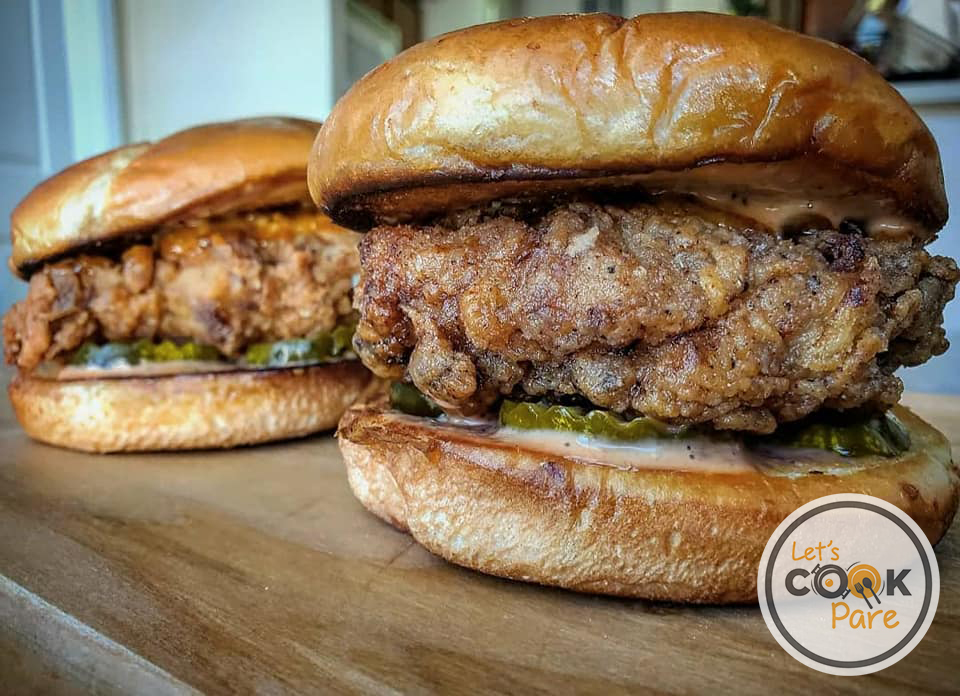 This version of Koi Anselmo's chicken sandwich can give Popeye's, Chick-fil-A and KFC's Zinger chicken sandwiches a run for their money.
Instead of chicken breast fillet, Koi opted to use chicken thigh fillet in this recipe for a tender, juicier meat. The chicken is marinated for 4 hours in buttermilk, then coated with seasoned breading and fried to a perfect crisp. Served in toasted brioche buns with a layer of his own signature dressing.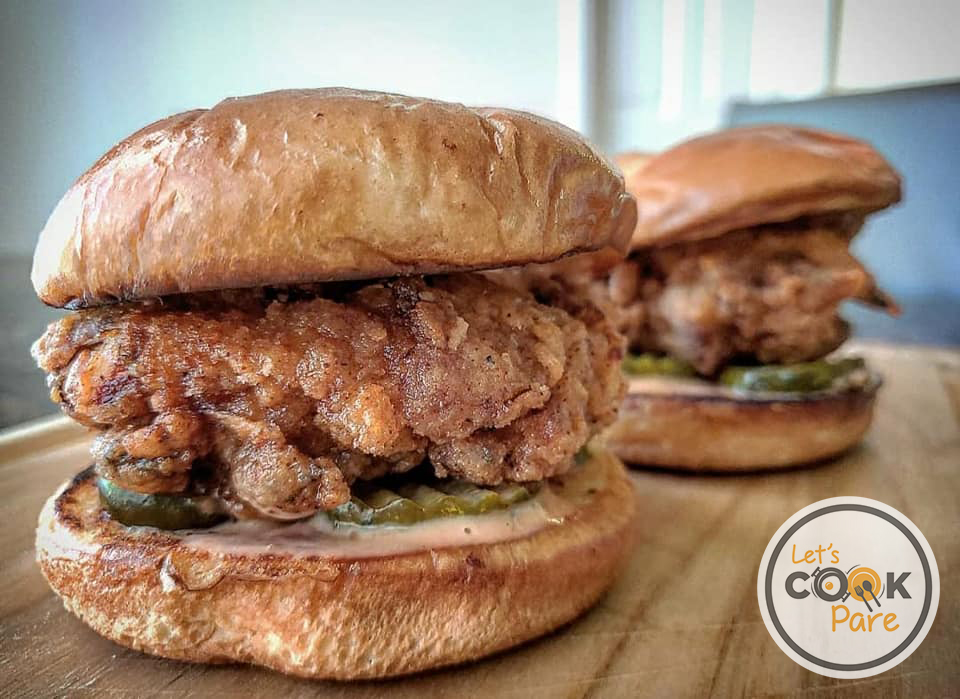 Chicken Sandwich
• Popeye's Chicken Sandwich
• Chick-fil-A Sandwich
• KFC Zinger
Ingredients
7

pcs.

chicken thigh fillet

7

pcs

brioche buns

oil for frying

butter

pickles
Marinade
2

cups

buttermilk

1

pc

egg

1

tsp

kosher salt

1 1/2

tsp

garlic powder

1 1/2

tsp

cayenne powder
Breading
1

cup

all purpose flour

1

cup

potato starch

1

tsp

kosher salt

1

tsp

smoked paprika

2

tsp

garlic powder

ground black pepper
Dressing
mayonnaise

sriracha sauce

squeezed lemon juice from 1/2 lemon

ground black pepper

honey
Instructions
Marinating the chicken:
In a bowl, add buttermilk, egg, kosher salt, garlic powder and cayenne powder. Whisk until combined.

Add chicken thigh fillet. Cover with cling wrap and marinate for 4 hours. 
Preparing the breading:
Combine breading ingredients in a bowl and whisk until evenly mixed.
Preparing the dressing:
Mix all dressing ingredients in a smal bowl until fully combined.
Frying the chicken:
Prepare and heat a frying pan or a pot. Add enough oil for frying.

Fry the chicken in batches until browned and crispy. Let it rest for awhile and fry again in a higher heat for a few seconds. 
Toasting the buns:
Prepare a skillet and set heat to medium low. Add butter and wait for it to melt.

Cut the buns into halves and toast by place the cut sides into the skillet surface.

Once the buns are nicely toasted, remove from the skillet.
Assembling the sandwich:
Use a spoon to spread both toasted sides of the buns with the dressing. Add a few pieces of pickles, then place a piece of the fried chicken fillet. Finish assembling the sandwich by placing the other half of the toasted bun on top. Enjoy the sandwich.
Notes