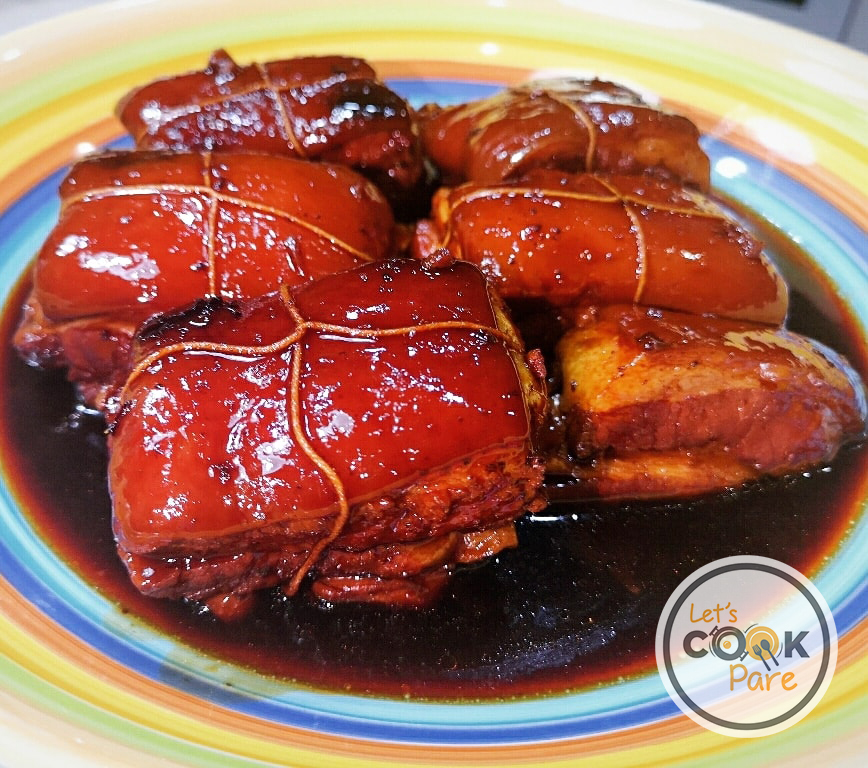 Introduction:
Dong Bo Rou (traditional Chinese: 東坡肉; simplified Chinese: 东坡肉; pinyin: dōngpōròu) is a Hangzhou dish[1] which is made by pan-frying and then red cooking pork belly.[2] The pork is cut thick, about two inches square, and should consist equally of fat and lean meat. The skin is left on. The mouthfeel is oily but not greasy and the dish is fragrant with wine. The dish is named after the Song Dynasty poet and gastronome Su Dongpo.[3]
Origins:
Legend has it that during Su Dongpo's life of poverty during his banishment to Hangzhou, he improved on the traditional process. He first braised the pork, added huangjiu (yellow wine) to make red-braised pork, then slowly stewed it on low heat. In their scholarly work Chinese Gastronomy, Lin Hsiang Ju and Lin Tsuifeng give the recipe "The Fragrance of Pork: Tungpo Pork", and remark that the "square of fat is named after Su Tungpo, the poet, for unknown reasons. Perhaps it is just because he would have liked it."[4]
Dongpo Pork experienced three phases of popularity, from first appearance to mainstream appreciation. The history of the dish is said to parallel the experiences of Su Dongpo: from Xuzhou, a northern city of Jiangsu province, where Dongpo pork first appeared under the name of Huizeng pork; to Huangzhou, today Huanggang of Hubei province, where Su Dongpo finalized the method and recipe; and, finally, to Hangzhou, where Dongpo pork was officially named and became widely known across China. (wikipedia)
My version:
My version of Dong Bo Rou involves braising and steaming the pork belly. The pork belly is stewed in the braising liquid for 1 to 1 /2 hours inside a claypot. The caramelized sugar helps achieve that red color commonly seen in this dish. The last step involves steaming the pork belly for another 1 to 1 1/2 hours for a melt in your mouth experience. The pork belly is fatty but not greasy at all.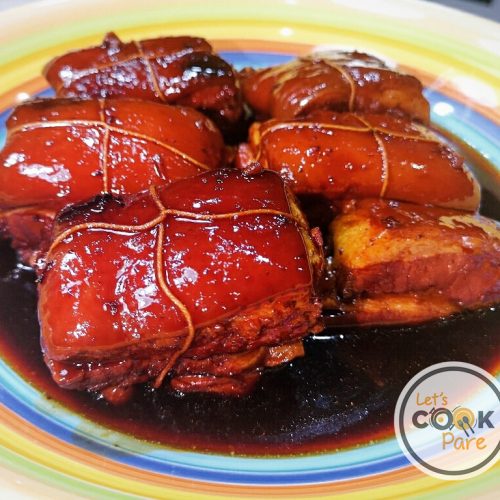 Dong Bo Rou
Braised pork belly cut into large cubes and tied using a kitchen twine. It is braised or stewed in a sweet soy sauce based liquid for several hours over a bed of leeks and ginger inside a claypot. Then it is steamed for an hour or more making the meat so tender it literally melts in your mouth.
Equipment
Clay Pot

Steamer

Kitchen Twine
Ingredients
1 1/2

kg

pork belly

slab

1

tbsp

cooking oil

3

tbsp

rock sugar

1/3

cup

water

2

pcs

leeks

cut into long pieces

12

slices

ginger

1/4

cup

light soy sauce

1

tbsp

dark soy sauce

1/2

cup

shaoxing wine

water

cornstarch slurry
Instructions
Cleaning the pork belly:
Wash pork belly and use a knife or cleaver to scrape the skin and get rid of unwanted residue

Heat wok and press the skin side of the belly to get rid of hair.

Use a brush to clean the skin side of the pork belly with tap water. Scrape the skin again.
Blanching the pork belly:
Put enough water into a pot or wok. Do not turn on fire yet.

Place the pork belly skin side up in the water. Push the sides of the pork for a better shape. 

Turn on the fire and set to high. Cover and bring to a boil. Boil for 10 minutes.

Remove and rinse the pork belly in tap water.
Tying the pork belly:
Cut the pork belly into large cubes.

Use a kitchen twine to tie each cube tightly.
Caramelized sugar:
Braising/Stewing process:
In a claypot, arrange a bed of cut leeks/scallions at the bottom. Place a layer of sliced ginger. This helps prevent the pork belly from burning. If you have a bamboo net, place it first before aranging the leeks and ginger slices on top of it.

Place the pork belly cubes skin side up. 

Add light soy sauce and dark soy sauce for deeper color. Add shaoxing wine, then add water until almost full. Add the caramelized sugar.

Cover and bring to a boil in high heat.

Then turn the pork belly skin side down. Cover and simmer again for half an hour.

Prepare steamer and set heat to high and boil. Make sure there are lots of water in your steamer.

Place claypot into the steamer and steam in high heat for 1 to 1 1/2 hours.
Notes