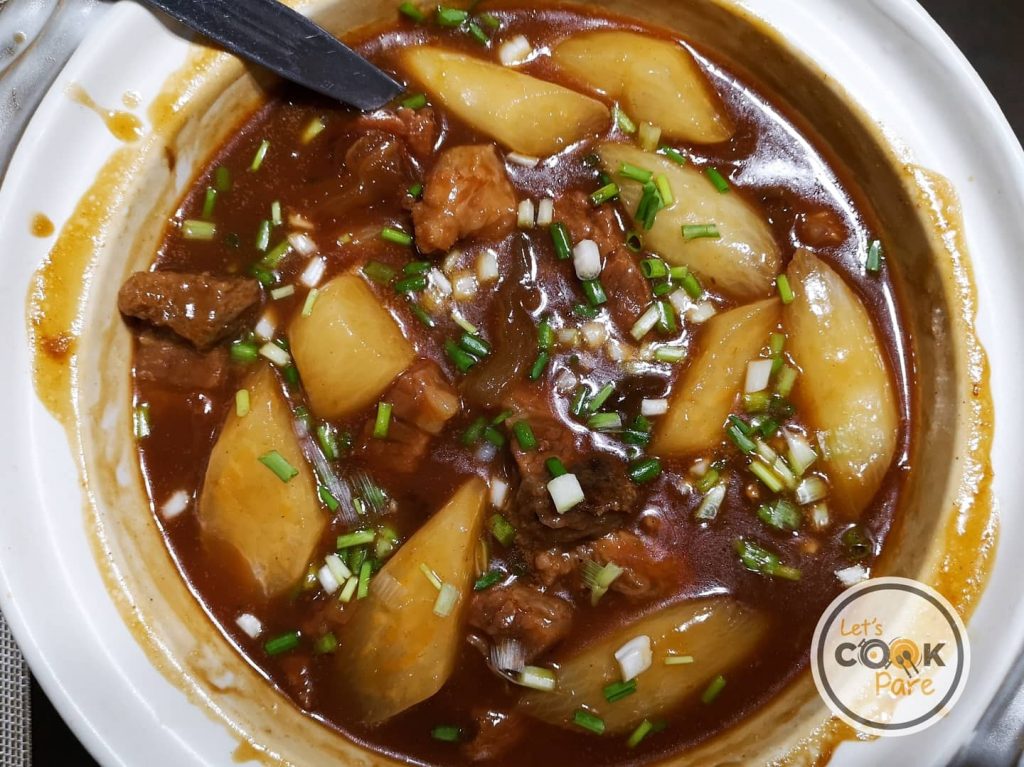 Braised beef brisket or Chu Hou beef brisket (柱侯牛腩)is a famous Cantonese dish. Beef brisket cubes braised until tender in a sauce consisting of Chu Hou paste and Chinese herbs and spices. Pieces of daikon radish are added and braised together with the beef.
I prefer to serve this in a claypot because of the health benefits. Clay pots add many important nutrients like calcium, phosphorous, iron, magnesium and sulfur to food, which are extremely beneficial to our body. Clay is also alkaline and thus, acts neutralized the acidity in the food, which makes it easier for us to digest (food.ndtv.com). I personally think cooking in a claypot makes the dish more flavorful.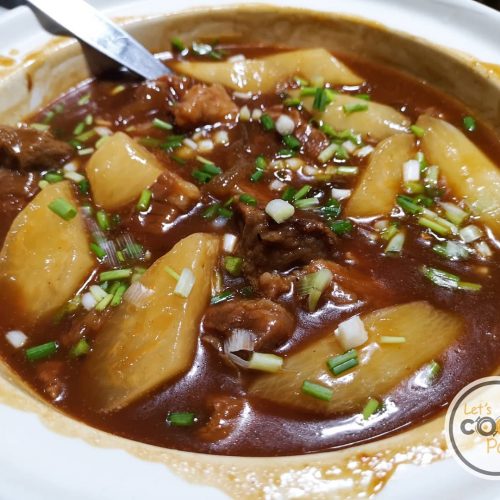 Braised Beef Brisket
Beef brisket cubes and daikon radish braised in a sauce consisting of Chu Hou paste, oyster sauce, chili bean sauce and Chinese herbs and spices.
Ingredients
1

kg

beef brisket

cut into 1.5 inch cubes

1

pc

daikon radish

cut into 2-inch pieces

5

slices

ginger

1

liter

unsalted chicken or beef stock

2

tbsp

cooking oil

3

pcs

bay leaves

3

pcs

star anise

3

pcs

dried tangerine peel

small pieces

3

slices

lemon

1

tbsp

chili bean paste (doubanjiang)

1 1/2

tbsp

Lee Kum Kee Panda oyster sauce

2

tbsp

Lee Kum Kee Chu Hou Paste

1

tsp

chicken powder

salt

according to taste

rock sugar

according to taste

spring onions

chopped
Instructions
Place beef brisket cubes in boiling water and blanch for 4 to 5 minutes while removing the scum.

Remove beef brisket and rinse with tap or cold water.

Prepare a wok and set heat to high. Add the cooking oil.

Add the sliced ginger and saute until aromatic.

Add the beef brisket and sear all sides until slightly browned.

Add the chicken stock, bay leaves, star anise, tangerine peel and lemon slices.

Bring to a boil, then cover. Set heat to low and simmer for 50 minutes.

After 50 minutes, open cover. Add chili bean paste, oyster sauce and chu hou paste. Add rock sugar and chicken powder. Set heat to high for 2 to 3 minutes to allow the sugar to dissolve. Stir until fully mixed. Taste and add salt or rock sugar if needed.

Add the daikon radish. Set heat to low and cover. Simmer for 20 minutes.
Optional step:
Prepare a claypot and set het to medium low. Pour the braised beef brisket into the claypot.

Cover and simmer for 15 minutes. Garnish with chopped spring onions and serve.
Notes