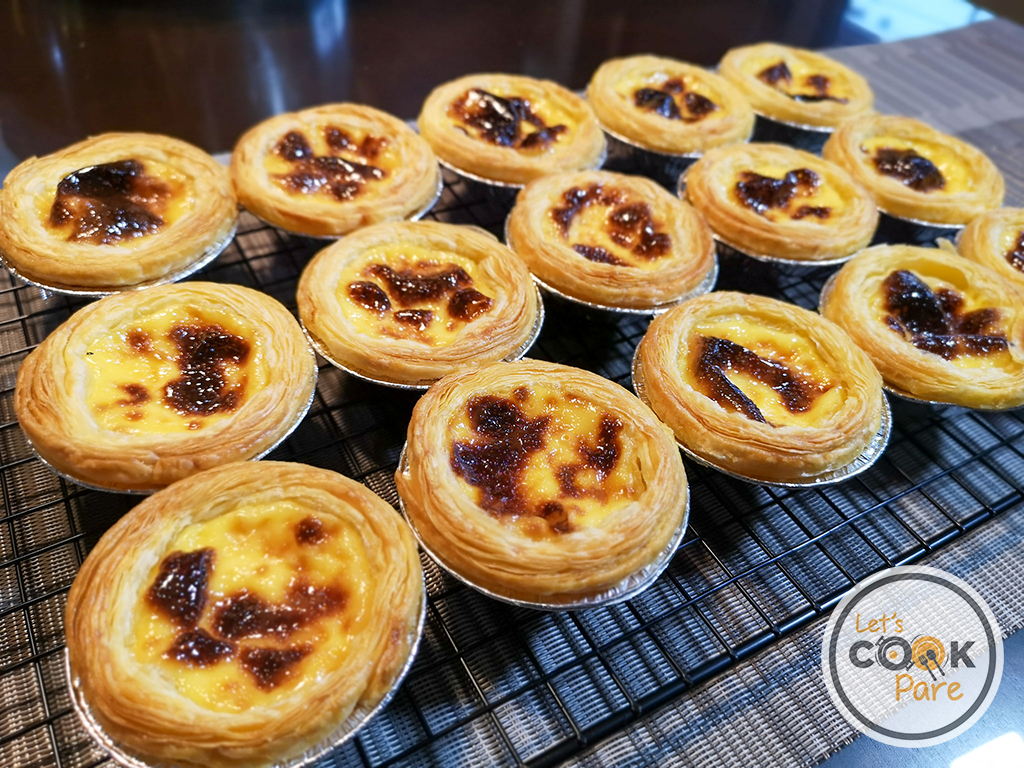 History:
Portuguese Egg Tarts or pastéis de nata were created before the 18th century by Catholic monks at the Hieronymites Monastery (Portuguese: Mosteiro dos Jerónimos) in the civil parish of Saint Mary of Bethlehem, in Lisbon.[3][4] At the time, convents and monasteries used large quantities of egg-whites for starching clothes, such as friars and nuns' religious habits. It was quite common for monasteries and convents to use the leftover egg yolks to make cakes and pastries, resulting in the proliferation of sweet pastry recipes throughout the country.
Following the extinction of the religious orders and in the face of the impending closure of many of the convents and monasteries in the aftermath of the Liberal Revolution of 1820, the monks started selling pastéis de nata at a nearby sugar refinery to bring in some revenue. In 1834, the monastery was closed and the recipe was sold to the sugar refinery, whose owners in 1837 opened the Fábrica de Pastéis de Belém. The descendants own the business to this day.
In 2009 The Guardian listed pastéis de Belém as one of the 50 "best things to eat" in the world.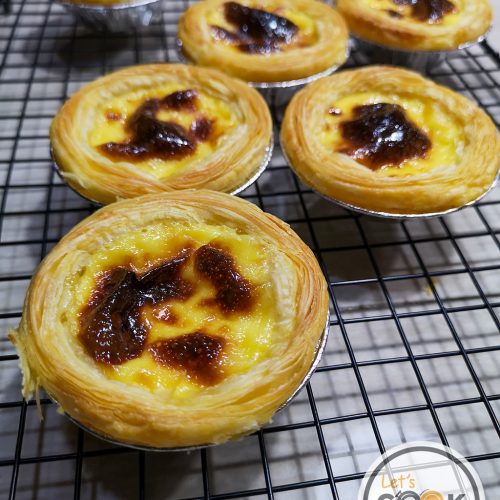 Portuguese Egg Tarts
Underneath the burnt custard skin is a generous layer of soft, smooth, warm custard, well balanced off with the crispy texture of the light flakey puff. This may look difficult to make but let me share with you…it is not….especially if you were using store bought frozen puff pastry…like me ?
My 4 yo boy can have 2 each time  
Ingredients
8

pcs

egg tart shells

frozen

2

pcs

egg yolks

30

grams

caster/white sugar

65

grams

fresh milk

125

grams

whipping cream

at least 34% fat
Instructions
Heat up milk and sugar slightly in a saucepan. Do not boil it.

Add cream and yolks to milk mixture

Whisk it to mix it well and sieve the custard mixture twice.

Let it cool down completely

Pour the cooled custard into the frozen tart shell, about 3/4 filled. Do not over fill.

Reduce oven temp to 230C, bake for 30min or so or until the top is beautifully bruised