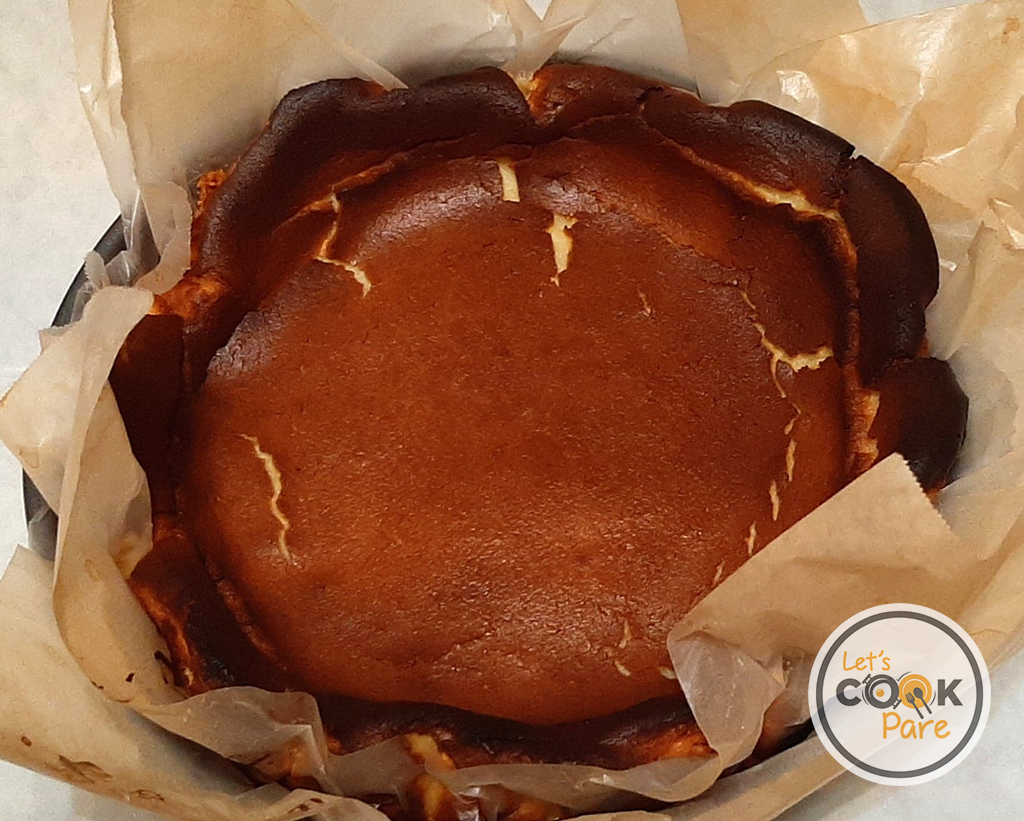 Origin:
Burnt Basque Cheesecake was created in 1990 by Chef Santiago Rivera of La Viña in San Sebastian, Spain. According to interviews, Rivera was looking to add a dessert menu to his Pintxos restaurant after taking it over from his parents and settled on a custardy cheesecake. (norecipes.com)
Our version:
Our recipe contains 7 ingredients: sugar, cream cheese, salt, eggs, heavy cream, all-purpose flour and vanilla extract. This recipe is so easy to make.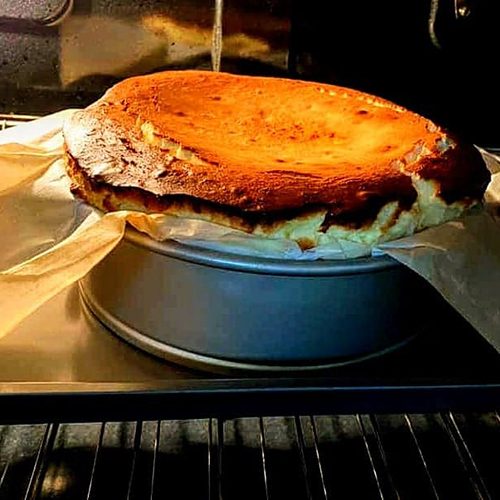 Burnt Basque Cheesecake
Burnt Basque Cheesecake is not your traditional cheesecake. The top is almost burnt while the center is jiggly. The result is a mouth-watering combination of textures and tastes that blend together perfectly. Almost no effort is required to make one.
Ingredients
350

g

sugar

1

kg

cream cheese

room temperature

¼

tsp

salt

5

pcs

eggs

large

2

cups

heavy cream

480ml

30

g

all-purpose flour

1

tsp

vanilla extract
Instructions
Preheat the oven to 400°F (200°C). Grease a 10-inch (25 cm) springform pan and line it with 2 layers of parchment paper, leaving 2 to 3 inches (5 to 7.5 cm) overhanging the top of the pan.

In a large bowl using a handheld mixer or in the bowl of a stand mixer fitted with the paddle attachment, cream the sugar and cream cheese until smooth. Mixing is complete when the sugar granules can not be felt. Add the salt and mix. Add the vanilla extract towards the end of mixing. Incorporate the eggs "one by one" and stir until fully incorporated. Whisk in the cream. With a sifter, add the flour to the mixture and fold it in gently.

Pour the batter into the prepared pan and bake for 60 minutes, or until browned and almost burned-looking on top. This can really vary oven to oven, so it helps to have your eye on the cheesecake from 60 minutes forward. The center will still be quite jiggly, but the cake is ready. Remove from the oven and cool.

Before serving, remove the outer part of the springform and gently tug away the parchment paper. Serve at room temperature (approximately 30 mins.). Note: when you first remove it from the oven it will be puffy and jiggly but as it cools down it will collapse and look more like a traditional pie (see photo).